BIG BLOCKS MAKE THIS AN EASY QUILT TO COMPLETE, SHOWCASE SPECIAL MOTIFS OR NOVELTY PRINTS IN THE LARGE BLOCKS! Soft colors and big blocks make a comforting quilt perfect for cuddling. This quilt is a simple one to make and will go together quickly. We love the fabrics chosen by the designer. There's just something special about soft colors that makes a quilt so appealing. This one will be lovely in deeper colors, as well. We can easily imagine it in crayon colors, as well as in fabrics for any season. Large square blocks allow you to show off special motifs and novelty prints. This is a fun pattern that has many possibilities. The finished quilt, from Bonnie Christine Design, is 45″ x 66″.
The literal translation of patchwork is "patchwork. It is a technique that unites fabrics with a multitude of different formats. The patchwork is the upper part or top of the work, while the complete work is the quilting, formed by the top plus the acrylic blanket and the background fabric, all held together by a technique known as quilting. Did you know that the word Patchwork means "patchwork"? Patchwork is handwork made with scraps in various shapes and colors to create blankets, bedspreads, towels, and much more! Your creativity is the limit for this craft. Thanks to this wide mixture, it results in a totally unique piece. How about starting to work with it now? Check below some Patchwork tips and techniques that we have separated to help you in this process.
Patchwork tips:
Scissors: circular scissors, very similar to pizza cutters, are ideal for cutting several shapes with precision, besides being more comfortable.
Sewing machine: for a beginner, a professional machine is not necessary, having a straight, domestic machine is more than enough to start the learning process.
Cutting boards: these boards have markings both in inches and centimeters and are used to place the fabric when cutting.
Iron: it is fundamental when it comes to making straight and more precise cuts, because it will leave the fabric totally stretched, and you will be able to get a closer idea of the result.
Fabrics: for being firmer and easier to handle, cotton without elastane is the most suitable for those who are just beginning.
Patchwork Techniques:
Nine Patch: this technique is composed of nine identical squares interspersed with white and printed fabrics.
Windmill Block: For this technique you will need two different colors. First, you will need to cut one square of each color and divide it in half in the shape of a triangle. Then join a triangle of one color with that of the other color chosen. Do this three more times and then join the four squares together.
Perfect Triangles: This technique uses triangles interspersed between colors, and to cut this triangle precisely, simply cut a square fabric in half.
Log Cabin: The starting point of this technique is a small square, and is followed by sewing strips of interspersed dark and light colored fabric around this square.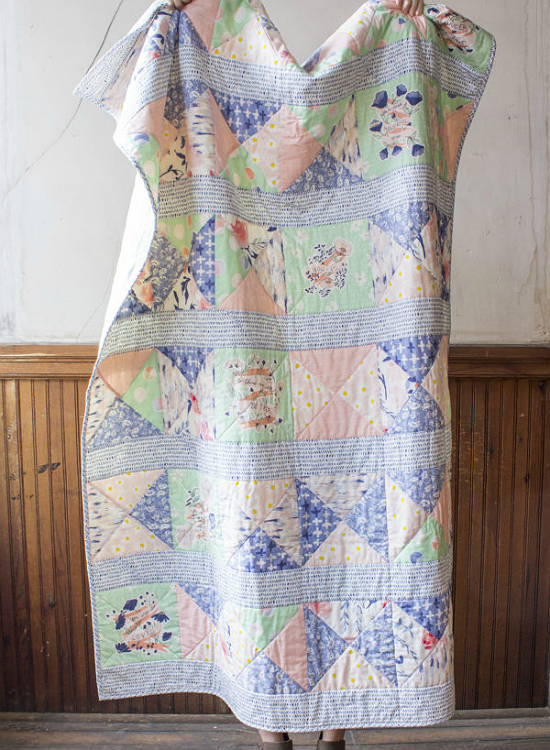 SEE TOO: Square Knot Quilt