INTERESTING BLOCKS CREATE A SPARKLING QUILT, PLAY WITH COLOR PLACEMENT FOR A ONE-OF-A-KIND QUILT! One simple block repeated in rows makes a stunning quilt. Whirling stars make the quilt seem to be in motion. This is a fun quilt for using up leftovers in your stash. Choose colors you enjoy and have fun playing with fabric placement. Make all the blocks similar in value or create a gradation for more interest. The completed block, from Capitola Quilter, is 12″ square. Make as many blocks as you need for the size quilt you want. There's no sashing but you can add a border if you want. What is patchwork?
Patchwork and quilt are handmade works made from pieces of spliced fabric. Patchwork is the splicing of patches sewn together to form designs, forming the top of the work that is called a top. There are historical records that man has been making quilts since he learned to weave. In the 9th century B.C., pharaohs already wore clothes with similar techniques. There is a version that this technique was taken by traders to the ancient East, then traveled to present-day Germany, until it reached England in the 11th century, being used to make carpets and clerical robes. But the first carpets and quilts did not appear until the 16th century, the time of Henry VIII, and used to be much admired wedding gifts.
Knights in the Middle Ages also wore quilts as protection, under their metal armor. In the mid-17th century, the art of quilting reached the Americas, more specifically the United States and Canada. Brought by colonizers, it was common to see quilts made of linen or wool, in whole cloths or from central medallions and borders, which allowed the total use of scraps, since fabrics were considered precious, as well as threads and needles (which were passed from mother to daughter). The techniques were passed down from mothers and grandmothers to their descendants, and many traditions related to fabrics, colors, and designs emerged.
A tradition from the mid-1800s required a girl to make twelve quilts before she could be married, the last of which had to use the Double wedding band blocks. During the American War of Independence many quilts with patriotic motifs and symbols related to the revolution appeared. From 1795 on, patchwork blocks and "shattered" borders appeared, but still around a central medallion. In 1800, at the beginning of the pioneer era, Nine Patch and Grandmother's Basket blocks appeared. In 1806, they began to work the quilts entirely in blocks, in what became known as the Irish chain pattern. In 1851, the invention of the home sewing machine was patented, which brought many new developments. With this came more blocks, such as Dresden Plate, Texas Star, Grandmother's Flowers Garden, Bear's Paw, Schoolhouse, and many more.
Speed of execution increased, and magazines specializing in patterns and patterns began to appear. The stock market crash in the United States caused the Great Depression, which lasted from 1929 to 1939, making quilters need to take advantage of any and all available fabric, using shapes such as the Apple Core and triangles, which allowed for the total use of fabrics. At this time, the appliqué equipment and the Sunbonnet Sue (Sue with a sun hat) appeared.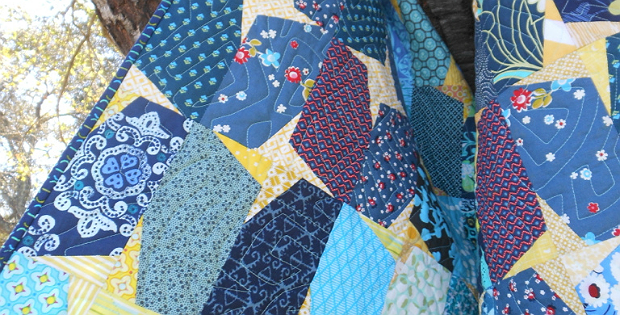 SEE TOO: Truths Quilt