What is the difference between quilt and quilting? Before knowing the difference between quilt and quilting, it is necessary to recognize that both techniques correspond to the same process of creating multi-layered products. After all, quilt and quilting make a sandwich out of different fabrics, forming layers. The most common "sandwich" is made of three layers: top, blanket, and lining. However, this is what defines the quilt, since there is quilt without quilting. quilt or quilting Photo: @aquiltinglife The quilting will be the detail that makes all the difference in the quilt, because it is an elaborate seam that has different ways of being done.
The quilt can be made with knots distributed throughout the piece, for example, without the need for an actual seam. Quilting, on the other hand, is a requirement in contests, for example, because it is the fundamental technique for differentiating a mediocre piece from something incredible. So, it is worth saying that in practice all quilting is a quilt, but the reverse is not always the case.
Quilting for beginners step by step If you want to make quilting for beginners, you will need the quilting foot to insert into a home or industrial machine. Make your own sandwich with fabrics, for example, a fabric for the lining and the top and a blanket to put inside. quilt machine Photo: Youtube Patrícia Müller – Casa de Pano Ateliê Train on paper before starting Train the quilting design on paper before using the machine, establish initially a free trace to play on the machine later. The training serves so that the brain recognizes the design and you feel more secure when reproducing it in the machine. When you put the fabrics in the machine, play around with your piece loose in your hand so that you can move it vertically while the machine runs.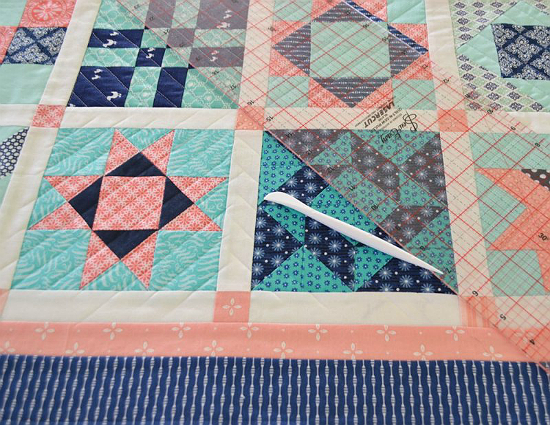 It is important to remember that this is a beginning step for you to practice quilting. You can experiment with handling the piece with your hands, using accessories that help in quilting, such as gloves that give you a firmer hold. Important hint: To finish the beginning and the end of the seam, pull the thread from below and machine stitch a few stitches on top of this thread. In this beginning, try to play with scraps that you can make mistakes in the process without too much worry.
Quilting Tips for Beginners:
Practice quilting design on paper, especially if you don't have an easy time with drawing and creating harmonious and well-distributed strokes in space.
Use fabrics that will serve only for your training, so you feel free to play and have fun handling the fabric in the machine.
To start quilting, use special gloves to prevent your hands from slipping, and also use a seam ripper and scissors.
Have an extension table for your machine so it is more comfortable.
Use special threads that you can find in any craft store, free market and other convenience stores.
Before quilting, you can either glue the fabric pieces together, baste them, or pin EVA safety pins on the ends so that the layers don't pull apart.
If the piece is for babies, avoid using glue, as it may cause allergies. These are great quilting ideas for beginners.
SEE TOO: Scrappy Sandwiches