Stitch this way; stitch that way; a thread pull in one way; a thread trim in another way… Truth be told: the world of creative sewing involves countless procedures and styles. Each one of them has its own characteristics and several details that need a lot of study and training to be put into practice. But the best of all is that, with time, you can mix the techniques in the same project, creating pieces with versatile and unique results. Among the best known techniques are quilting and patchwork. For many people involved with sewing, especially beginners, the terms are still easily confused. Therefore, we will explain the difference between them! Innovate your projects with quilting and patchwork – Patchwork and quilting are techniques that never go out of fashion. With them you can create beautiful projects, and when they are used together they result in unique, voluminous, and very stylish pieces. So specialize in creative sewing with versatility, and rely on Brother sewing machines to help you produce!
What is patchwork? Let the first stone throw who has never been enchanted by a patchwork quilt of unique composition found at grandma's house. To make it, the technique used was the classic patchwork, which is nothing more than sewing together several "blocks" of fabrics that can vary in color and size, and usually follow geometric shapes such as squares, rectangles, and hexagons. The combination of textures and patterns to form a large piece – which can be anything from a quilt to more complex items such as bags – when well elaborated, results in vibrant designs. It is the perfect possibility to make use of fabric scraps left over from other projects, avoiding waste. Furthermore, a basic knowledge of sewing and a lot of creativity are enough to develop the technique, after all, patchwork for beginners involves simple stitches and is therefore excellent for getting headlong into the textile world!
What is quilting? Quilting is the process of sewing two or more layers together to create a thicker quilted material. Usually, three fabrics are used to make up the project: two for the surfaces and a central one to add volume, all joined by stitches at the ends, which can vary according to the design purpose of the piece. The quilt is the end result of this composition. It is very common in blankets, decorative items, and clothing – especially cold-weather coats or historical costumes. In other words, the technique cannot be missing in your sewing studio to produce bulky and more robust orders.
Creating with quilting and patchwork Just because they are different techniques does not mean that you have to choose between them. Quite the contrary, both can compose your project, resulting in a piece with more robust volume and a lot of style. Thus, it is possible to make, for example, pillows, very warm blankets, firm bags, and even 3D notebook covers! Whatever the product, the result is a stylish and unique piece due to the patchwork union and, at the same time, a firmer structure, achieved by the layers of quilting. For those who want to produce with more agility and count on standardized stitches, it is essential to invest in sewing and embroidery machines. The equipment must have quilting stitches, so, besides the common sewing to join the patchwork pieces, it is still possible to create the layers for the piece to gain the upholstered effect. In addition, with a little help from technology, productivity increases and, with this, the possibility of entrepreneurship and generating extra income from sewing becomes real, joining the hobby to the financial one.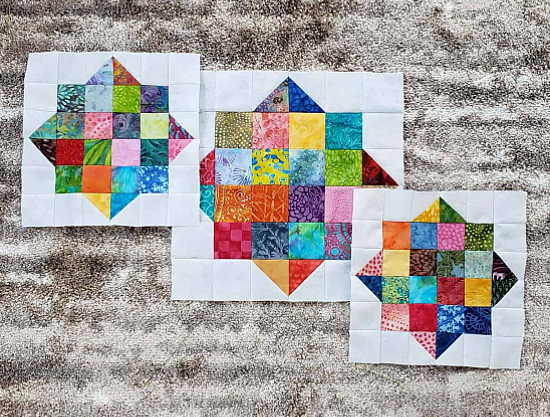 SEE TOO >>> The Quilter's Palette Tote Bag