Mosaic Baby Stroller Blanket
Hello good afternoon to everyone who follows us on our website, today we are going to another wonderful point in our collection of patterns, this point really draws attention in a simple look, we see that it is something magnificent, it gives a different feeling to the appearance, today let's make a beautiful baby blanket, beautiful plus this clear cute pattern for babies. And this pattern can use various color combinations, making mixed options or tone on tone can be good when we love the coloring; we can give you the idea of 2 or more colors at your discretion and that way you make a Mosaic Baby Stroller Blanket.
At this point that we will learn today, you can make beautiful baby blankets, as you can see in the photos below, which I left for you with several different models and countless colors. There are countless possibilities to express this point, I like patterns to be able to make several and always be different and make the baby's affection more beautiful. The universe of blankets can confuse parents, with so many options and models. These are essential items for newborns, especially during the colder months of the year. If you need to know more about baby blanket options, check out this Shopping Guide. What materials are the most recommended? At this point, we already know that materials should be suitable for babies.
This means that they are antiallergenic and free of harmful chemicals. That said, the next step is to evaluate the season in which you will use the blanket. The materials of winter blankets are different from summer blankets. For example, in the colder months, you should opt for natural fibers that offer more warmth, such as wool or cotton. Coraline can also be an excellent choice. In spring or summer, 100% cotton is the preferred material. Crochet has very beautiful and elegant features. It will always be a wise decision.
Can baby blankets be machine washed? Generally, the baby blanket can be washed in a washing machine without major problems. The washing temperature will depend on the type of material. There are materials that can withstand only about 30 degrees, since if they exceed this temperature, they can spoil. Other blankets, made of better materials, can withstand up to 90 degrees. In any case, the hygiene of these products is more than guaranteed. It is advisable, then, to pay attention to the label and the manufacturer's instructions in order to give the item the best possible maintenance. It is very important that the baby is in a hygienic atmosphere, so always rely on suitable materials for the washing machine.
Buying criteria: As you might expect, every parent wants to buy the best blanket for their baby. And a blanket will be one that meets the requirements of quality, size, and design. Below is a list of some of the most important Purchase Criteria that you should keep in mind. Consider these aspects before you make any decisions:
Quality of materials
Size
Design
Texture
This recipe, after many orders today, we can do to leave the pattern here for you Mosaic Baby Stroller Blanket, good for those who love our site and who always accompanies us on our journey. We hope you like the pattern in PDF below and learn more and more in this world of crafts.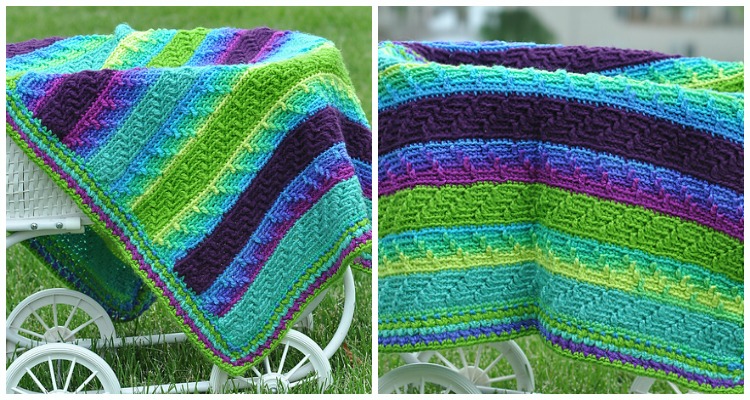 Free Available Pattern: Mosaic Baby Stroller Blanket

Craft For The World wants to thank By Wendy Goeckner for providing us with the complete pattern of this beautiful work. Follow your step by step carefully and start your project.
See To: Bernat Cluster Panels Crochet Blanket