The crocheted blanket is one of the most popular and easy to find items in Brazilian homes. This is true for a number of reasons, especially because it is a cheap product that can be made at home with the help of some tools, and it is also very versatile, with several uses, besides the models available in specialized stores. All this versatility can be seen, for example, in the crochet baby blanket, which in fact is used in many ways, although as a blanket is the most common. The same goes for the crocheted blanket for sofas, which is often used as a cover to match the cushions, in order to prevent the fabric from getting dirty during use, which is also true for armchairs.
Crochet blanket detail – 1. The crochet blanket is a very popular item. Precisely because of this multifunctionality, crocheted blankets are often confused with quilts, since it is not difficult to find people who choose to use it as a piece of bedding. The truth is that when it comes to the crocheted blanket, the most important thing is to use it in a way that takes full advantage of its benefits, no matter what way or name it is given as a product. If you are one of the crochet blanket enthusiasts, but are not very familiar with its details, read on and check out some valuable information about this item that stands out for being beautiful, versatile, and very affordable.
Take the time to find out how to make crochet blankets and take a look at our gallery of beautiful patterns that are sure to inspire you. Crocheted and knitted blankets: what are the differences? – One of the most important questions about crocheted blankets is the difference between them and knitted blankets, which are also very popular and in fact are similar in many ways. An example of this is the appearance, as both blankets have a braided style. In addition, crocheted and knitted blankets are sold in the same price range, at a very affordable price.
There are differences between the crocheted blanket and the knitted blanket. But finally, what is the difference between the crocheted and knitted blanket? Generally speaking, the model made from the crochet technique is produced only with woven thread, while the knitted one is made with wool. This makes the crochet blanket a more delicate model, despite having fewer details because the technique applied in its production works with only one needle, while knitting needs two. The crocheted baby blanket is one of the most popular models on the market, precisely because many associate its use with decorating children's rooms. Its use, however, is varied. It is common, for example, that many use the crochet baby blanket as a blanket and also as a lining for car seats or even in the crib, a smart way to take advantage of the properties of the piece.
3. The crocheted baby blanket is widely used in children's rooms. The interesting thing about the crochet baby blanket is also the fact that it is a model that helps the child sleep, since its fabric is usually very soft and comfortable. This is especially true if the technique of maxi crochet is used in the production of the blanket, which is made from mesh, a fabric that is even more comfortable and indicated for the blanket to be used as a blanket. Crocheted blanket for sofa – In decorative terms, the crocheted blanket for sofa is one of the simplest and at the same time interesting products on the market. With it you can give a totally different face to the sofa, which can be a cheap and smart alternative to hide rips and stains that may have on the fabric – something very common in leather sofas and armchairs, such as the chesterfield model. Sofa decorated with a yellow crocheted blanket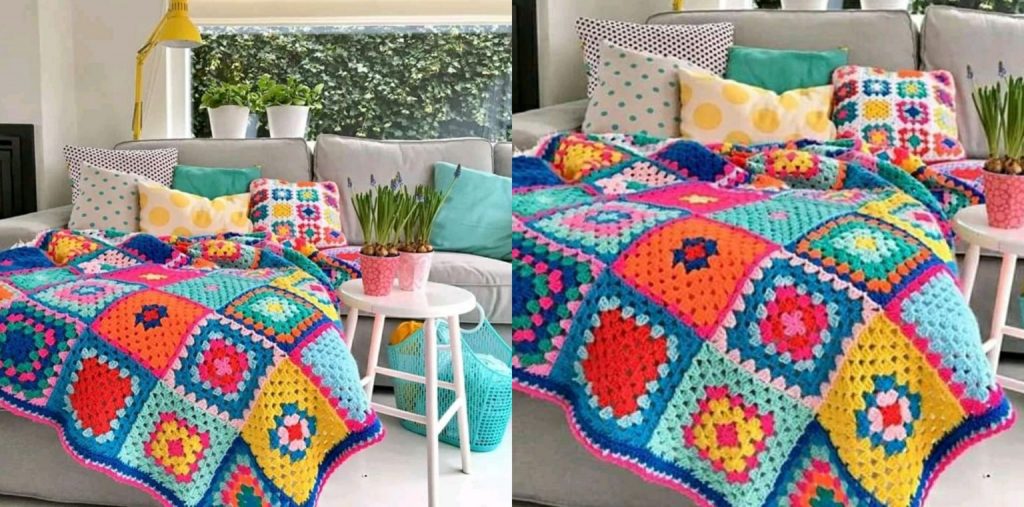 SEE TOO: Carousel Throw Blanket CAL Crochet