Patchwork and quilting are partners in the world of handicrafts, they have been together for thousands of years, each with its own history while retaining its own characteristics. Both can be functional and/or decorative and both have been reinterpreted continuously by successive generations. As a customary practice, quilting goes back many centuries in many parts of the world, but because fabrics are fragile, ancient survivals are rare. The word quilt comes from the Latin "culcita," a kind of mattress or pillow filled with something soft and warm (such as feathers, wool, or hair) and used for lying on or covering.
Evidence for the existence of quilting goes back several centuries to before the Romans. Excavation sites (in which objects have been preserved from the destructive effects of light, air, dust, and wear) have provided the finest finds. A carved ivory statuette, found in Egypt and believed to date from 3,400 BC, shows a Lower Egyptian king wrapped in a robe on which the engraved decoration has the characteristics of quilting and the pattern employs the same combinations of diamonds or diamonds so popular today.
A funerary rug, found in Russia on the floor of some chief's tomb and dated something between 100 BC to 200 AD and probably the oldest surviving item of quilting. One of the most beautiful surviving correlates is an elegant quilted slipper found in a garbage heap of a Tibetan army garrison, on the Silk Road and probably made between 750 and 860 AD. It is from these rare and badly damaged fragments that one seeks to build a history for ancient quilting. One of the most important uses of quilting in many ancient societies was in the making of personal armor. Strong, well-seated and well "quilted" fabrics made an effective defense against blows from swords, spears and arrows. It was used by the Chinese and Japanese army and by the "Rajputs" of India and throughout Europe until the Middle Ages.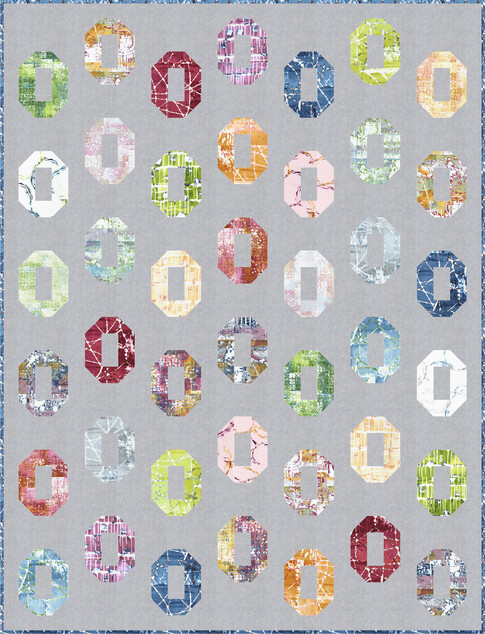 Occasional surviving items such as some quilts found in Sicily, which date from the late fourteenth century, give us little direct evidence of styles and techniques in use in particular societies and periods, and it is only when we go deep into the Middle Ages that we find enough written evidence to construct a coherent history. But even these written notes tell only the part of the story that concerns the wealthy, because references occur in the accounts and inventories of upper class families. But it is reasonable to assume that the women of the poor families who made the quilts to which these accounts refer, must also have worn quilts in their homes. Therefore, quilts and quilted garments must have been worn in both wealthier and poorer households. There are also a few surviving examples of patchwork, precisely because it was a recycling technique, using garments that had often already been well worn in another way. Something like "make and mend".
Until well into the seventeenth century, many fabrics were produced at home on household looms, where first the fibers were grown, then the threads were spun, and finally the cloths were woven. These were valuable goods and were only discarded when used to their maximum and their possible use was exhausted. Their last possible use was often in patchwork. Good examples of English quilting come from the early eighteenth century. These survivals were often parts of garments and bed quilts. English patchwork was not necessarily "quilted". It was often only plain, and consequently less sturdy and durable. Patchwork and Quilting were common occupations in most societies, precisely until the time when manufactured bed coverings and bed covers gained general availability.
SEE TOO >> Oh My Stars! (A Quilt-Along)