Welcome to Craft For The World, ready for another incredibly beautiful pattern ?! How about gifting someone or even decorating your home, this is a great pattern to make for babies and think: fluffy blanket + cute baby = cuteness in double dose!! the pattern we are going to learn today is called a Crochet Cactus Blanket, beautiful pattern you will love.
Cacti are gaining more and more fans. It is a type of plant that is easy to care for and a great option for growing at home. Exotically beautiful and with different types and sizes, they make any environment more authentic and full of personality. According to landscape designer Mônica Cipelli, "cacti belong to the cactaceae family and survive in hot or arid places, accumulating water in their tissues. This is due to the fact that they are succulent plants, that is, plants whose root, stalk or leaves have been thickened to allow the storage of water in much larger quantities than in normal plants. But Monica explains: "Cacti are succulent plants, but not all succulent plants are cacti. So don't confuse them! There are many types of succulent plants, and the cactus is just one of them.
Combine different types of cacti and pots: Look how cute this combination is! Different cactus species were used, and also different types of pots. There are clay, copper, gold, and even crochet pots. Thus, you leave your decor versatile, fun and, of course, full of life.
Make a mini garden: Another very nice idea to do with cacti is a mini garden like this one. You can compose it with other succulents or even with a Bonsai, those trees with reduced dimensions. This piece shows how beauty can be in the smallest details.
A beautiful collection of cacti: How about a beautiful collection like this one? A good idea is to reserve a corner of the house for cactus pots. Due to the great diversity of species and genera, it is possible to make beautiful compositions with different types of this plant. In this case, the fabric square on the wall made the decoration even more rustic, referring to the culture of countries like Chile and Peru, where you can find many cacti.
Let the decoration look like you: How about combining cacti with your favorite decorative objects? This one in the photo made a beautiful composition with the Frida Kahlo painting, which, incidentally, has everything to do with the theme of flowers and nature. Another highlight is the beautiful clay pot, one of the best potting materials for planting cacti.
A special touch in the decoration: The cacti give an exotic air to the environment and are good allies to enhance and accentuate the beauty of your favorite room in the house. Place cacti next to the bed, on top of a small table or in a large vase in the living room will attract good fluids to the home and also very good taste in decoration.
Play with creativity: What a creative and fun idea! The peanut cactus was planted in nothing more, nothing less, than in the peanut jar itself! Isn't that great? You can play with your creativity and create several original and humorous pieces like this one.
TIP: Roll five fist-sized balls (one for each cactus) and put them in plastic bags; so that while you work the thread doesn't get tangled (too much). That may help you!
Here is the graph of the cactus you will use. You can click here or click on the chart to print it.
Stitch:
Front 2 Loop Half Double Crochet (F2LPHDC): Yarn over and work your hook up and under the front two loops (the two loops that face you) of the half double crochet stitch, yarn over and pull through all three loops on the hook, stitch complete.
Watch video below if you need to see a quick demonstration:
Materials:
(Size 32 x 34 inches)
Red Heart Soft, White-3 skeins, Black-1 skein
Content: 100% acrylic Ball size: 283 g/10 oz, 469 meters/513 yards Care: Machine wash and dry Gauge: 4 – Medium
Size H, 5.00mm hook
Tapestry Needle
Scissors
Zip-loc plastic bags
Pattern: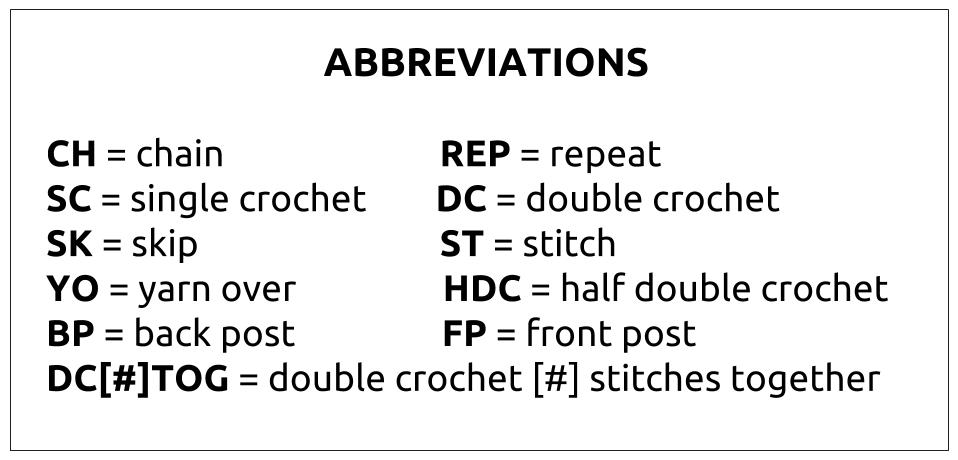 Chain 114, (pattern repeat is 22 plus 4. Multiply the number of cactus you would like across the end of your blanket times 22, then add 4.)
ROW 1: In the third chain from the hook, work 1 HDC. Work 1 HDC in each chain across the row. Chain (CH) 2 and turn. (112)
ROW 2: In first stitch, (turning chain does not count as a stitch) work 1 F2LPHDC. Work 1 F2LPHDC in each stitch acros the row. CH 2 and turn. (112)
ROW 3-21: Using the F2LPHDC now and throughout the entire blanket, start in the lower right hand corner of the chart and follow the graph. To change color, pull through on the last step of the stitch. Use one ball of black yarn per cactus. You will carry the white yarn through the black (this means the white yarn will lie flat across the row and you will crochet over it and bring it through the black portion of the cactus.)
ROW 22-66: Repeat row 2.
ROW 67-85: Turn the graph upside down and work the cactus from the top to the bottom.
ROW 86-87: Repeat row 2. Tie off and weave in the ends.
BORDER:
Round 1: Pull up a loop in any corner and chain 1. Work 1 HDC in each stitch across the row, and work 1 HDC and the end of each row on the sides of the blanket. Work 3 HDC into each corner. Join with a slip stitch to the starting HDC.
Round 2 and 3: Continuing in the same direction, work 1 SC (single crochet) into each stitch. Work 3 SC into each corner. Join with a slip stitch at the end of round 3. Tie off and weave in all ends.
If you'd like to add finishing touches to your blanket, lay it out flat on a towel or foam blocking boards if you have them. Use a spray bottle with water to dampen the blanket. Press the blanket into straight lines, massaging the stitches and adjusting your tension. Pin with straight pins and let it dry.
SEE TOO: Bernat Hip To Be Square Crochet Baby Blanket