Welcome to Craft For The World, Patchwork: Essential Tips for Beginners! You've surely seen some patchwork pieces around! Just like crochet sousplats, this technique is a craft classic and is present both in the home, in a patchwork tea towel or a patchwork quilt, and on the streets, in the form of patchwork bags and details on T-shirts, for example. Literally translated, "patchwork" would be, in Portuguese, patchwork. In other words, in this technique, you use scraps from different fabrics and join them together in a harmonious way. In the end, patchwork is a way to make fun, colorful, and most importantly, unique pieces. With patchwork you can make the most varied products. Some of the most classic ones we have already mentioned, but in addition to these, you can also produce pillow covers, rugs, curtains, wallets, notebook covers, and much more. Check out how to make patchwork and start your own production!
How to do patchwork? If you are thinking of starting to make patchwork but are afraid, you should know that it is not as complicated as it might seem. Patchwork is composed of three layers that are superimposed:
Top: the top, made with the scraps;
Filling: in the middle, it is what gives the patchwork its volume;
Lining: a usually one-piece fabric at the bottom of the patchwork to give it a nice finish. These three parts of the patchwork are joined by stitching that can be done by machine or by hand.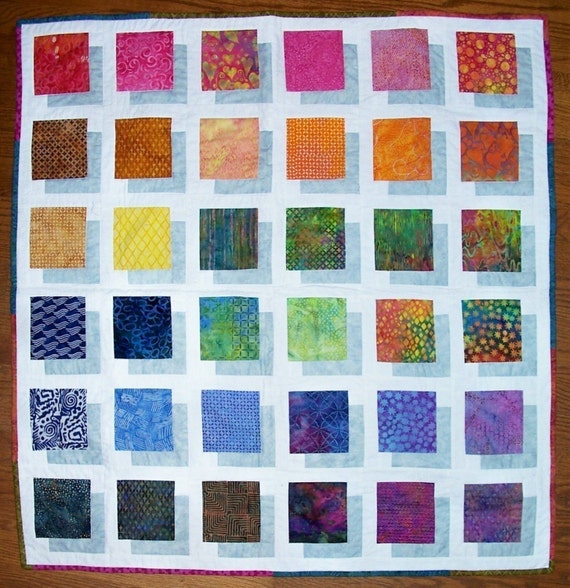 Step by step on how to do patchwork – Now that you know the structure of a patchwork, let's get to our simple tutorial on how to do patchwork. Let's start with the materials needed: Fabric scraps, Fabric for the lining, Padding (can be acrylic blanket), Ruler or tape measure, Pencil, Scissors or circular cutter, Pins, Needle and thread or sewing machine. With these materials in hand, let's go to the step by step of how to do patchwork:
Separate the scraps you will use and cut them into the shapes and sizes you prefer;
Join two patches at a time, sewing them together by hand or machine;
3. Sew the patches together until they are the size you have planned;
Cut the filling and the lining 3 or 4 centimeters longer than the size of the top;
Finally, join all the layers together.
To make the splice, you can do a simple seam or something more elaborate, with arabesques, colored threads, etc.
Patchwork fabric tips – Whether you are making patchwork dishcloths, patchwork bags, or any other piece with this technique, it is essential to know what fabrics to use. The fabrics recommended for patchwork are 100% cotton. They do not unravel much, are firmer than synthetics, and have a huge variety of prints. It is a good idea to wash patchwork fabrics for patchwork before you start. That way you will find out if they shrink or shed dye. The most suitable patchwork fabrics for the lining are percale if the piece is large, and unbleached cotton or tricoline for smaller sizes. And to make patchwork bags you can use canvas, tarpaulin, velvet, denim, jeans without elastane, serge, raw cotton, among others.
SEE TOO: Bernat Linen Stitch Stripes Crochet Blanket