Baskets with 10 "squares – remaining cake layers!
Welcome to Craft For The World! Who doesn't love those sewing projects that use pre-cut fabrics?! We often have a handful of leftovers that we don't know what to do… that's why this easy basket that you can sew with 10 'cake squares is perfect, being a quick and easy to sew fabric basket, which also it is reversible (so that the coating and the exterior can change at any time). If you are new to sewing, don't worry this is the perfect place to start! You just need to sew simple straight threads and the materials for these baskets are cheap and easy to find. These soft boxes are great for keeping your sewing table organized, for gifting or even selling. It was used and you can use 10 'squares of fabric from a layer of cake. If you have an entire layer of fabric to use (which is a 40-42 10-inch square pack), you can make 10 baskets out of it. Plus, you'll love how the inner and outer corners are joined together so there is no loose lining! So let's sew!
HomeOrganization and Renovation MagazineOrganizer Box: Here's How to Use It – Keeping the house always in order is the dream of many people and there is a specific item that can help us in this moment, making everything easier and simpler and this item is the organizer box. The organizer box is a simple accessory, easy to find, but that can work a miracle in the organization of environments, whether to store documents, clothes or kitchen utensils, the organizer box is a sign of an organized and more practical environment for the day to day. Here you can see tips on how to use the organizer box to keep everything in order the way you always wanted. 1. The organizer box is a must-have item to keep your home always in order! How to choose the best organizer box. In the market you can find many different models of organizer box, there are large organizer box, small, plastic, cardboard, with lid, children's organizer box, in short, the options are many, which ends up leaving us confused when it comes to choosing one that will really meet our needs.
For this reason, to choose the right organizer box, it is necessary to know exactly how you plan to use it and also in which room, because if they are going to be exposed in niches, shelves or racks it is necessary to buy more beautiful and elaborate models, while if you are going to use them inside closets, for example, you can use simpler models. decoration of all-white closet with cardboard and acrylic organizer box Photo Lauren Conrad. 2. When we choose the organizer box it is very important to know what objects will be inside it, because then you can opt for a large or small organizer box, or even a stronger organizer box, if it is a heavier object. If the organizer box will be used to store papers such as photos and documents, tissues, or accessories such as earrings and necklaces, the box doesn't need to be so resistant, and the cardboard organizer box is a good option.
Organizers for Closets As much as the closet is an intimate environment with little access for those who do not live in the residence, everyone wants to keep this space as beautiful and organized as possible and for this it is important to use more elaborate organizer boxes that match the closet decor. The most common models of organizer boxes are plastic or cardboard, but it is also possible to find acrylic ones, perfect for organizing and decorating spaces such as closets. And one of their great advantages is that they are transparent, so it is easier to know where is that piece of clothing or accessory you plan to use
To make 1 basket, you will need:
4 squares of fabric 10'' x 10''
1/3 yard of medium weight fusible interfacing (Use HeatnBond Fusible Fleece)
coordinating thread
Additional Cutting:
cut 2 squares of fusible fleece or other fusible interfacing 10'' x 10''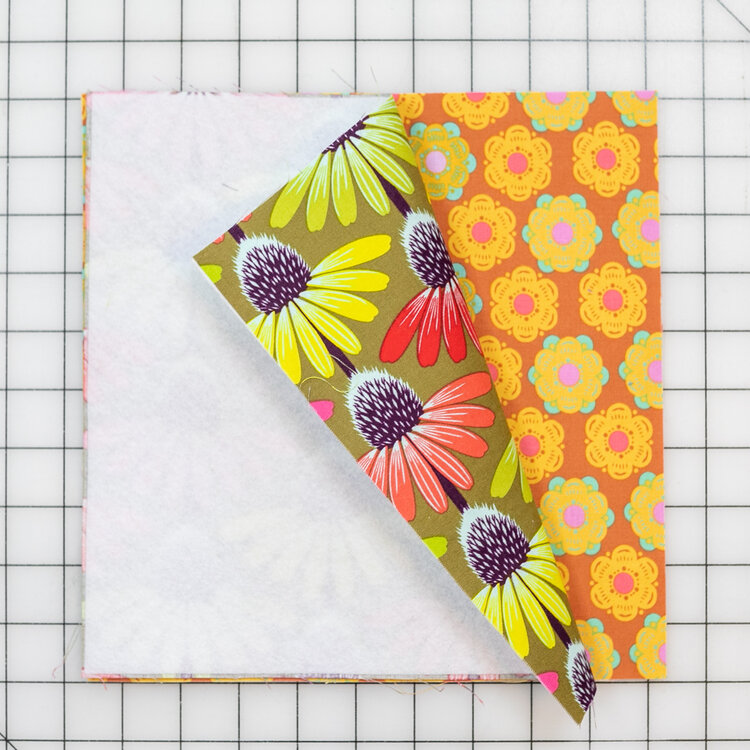 Preparation
1. Pair your fabrics together so that 2 fabrics will be the inside of the basket and 2 will be the exterior (just for now since the basket will be reversible).
Fuse the interfacing to the wrong side of 1 pair of fabrics (it doesn't matter which ones).
Place that pair of fabrics right sides together.
Tip: If your fabric is directional, make sure that the fabric square is right side up.
2. Cut 2 1/2'' squares from the bottom corners of the fabrics.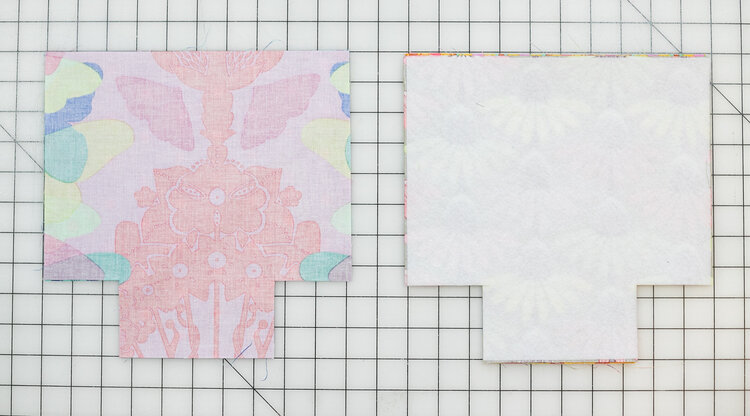 3. Place the other set of fabrics right sides together and cut 2 1/2'' squares from the bottom corners of those two fabric squares also.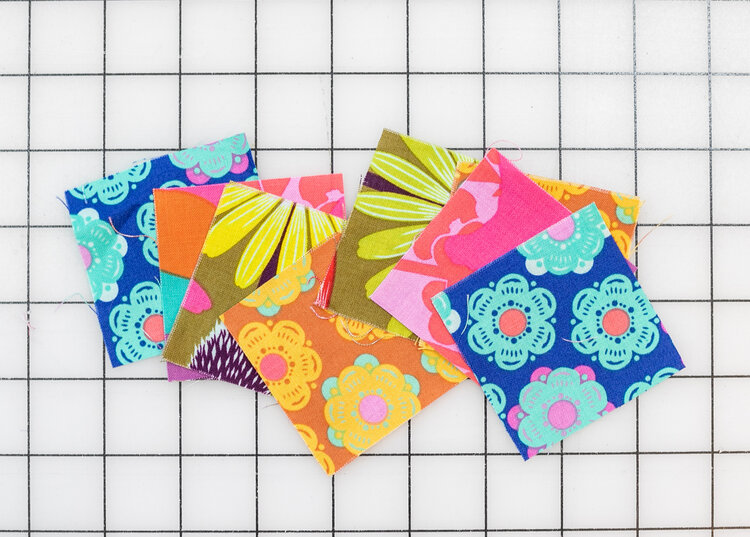 Tip: those 2 1/2'' squares are the same size as another pre-cut fabric – Mini Charms! It's okay to peel the interfacing off the back (if needed) and use these mini charms for another project.
4. Press the top edge of all four basket pieces to the wrong side by 1/2''.
Sewing
Use a 1/4'' seam allowance.
1. Place each pair of fabrics right sides together again. Pin.
2. Open the top folds and sew across the side and bottom edges only of each pair (do not sew around the cut out corners).
Press the seams open. Re-press the folded edge at the top of each basket piece, if needed.
3. To make the bottom corners, flatten one side of the basket against the bottom with the seams lined up. Pin.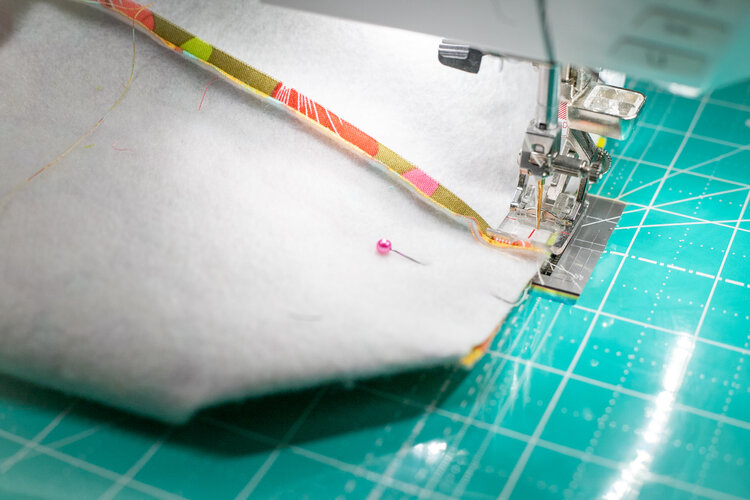 Sew across the corner seam.
Repeat to make both basket pieces.
Tip: this next step will ensure that your basket lining and basket exterior are stuck together so you don't get a baggy bottom!
4. Place the bottoms of each piece together with the corner seams and the bottom seams lined up.
Clip or pin the corner seams together on each side (separately).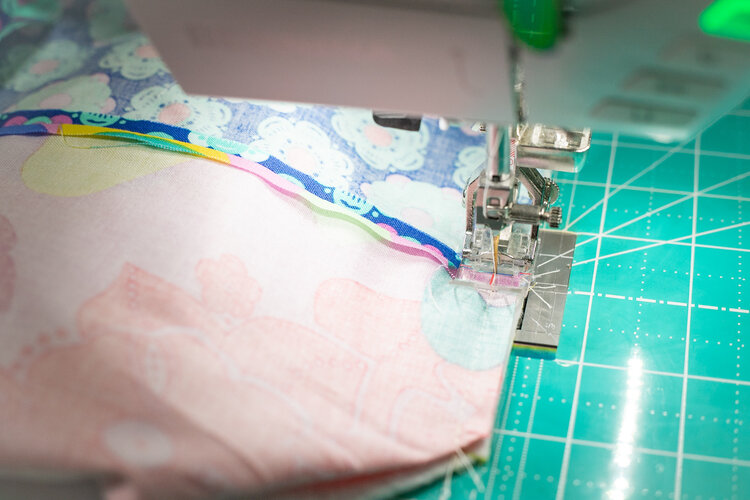 5. Sew the lining corner and the exterior corner together by sewing right all the way across the corner seam on top of the previous stitching.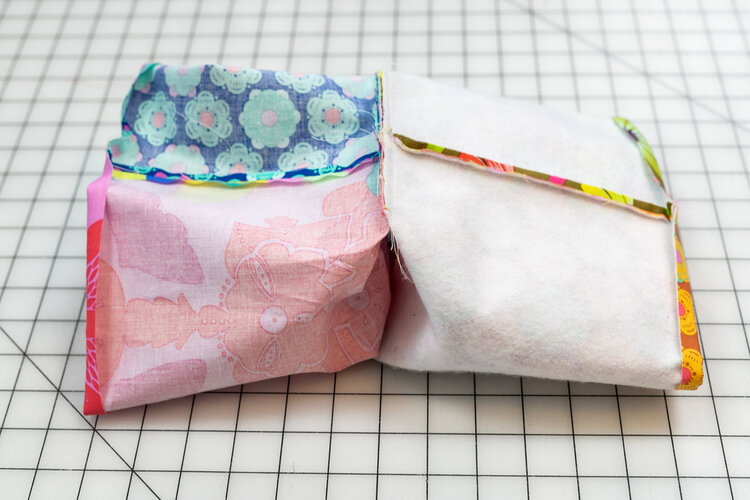 Repeat on the other side of the basket so that the lining is attached to the basket exterior along both bottom corner seams..
6. Pull the lining up and around the exterior of the basket. Line up and clip (or pin) the top edges together, matching the side seams.
7. Sew around the top edge of the basket, 1/8''-1/4'' from the top edge.
If your sewing machine has a free arm, you can use it to help you sew around the outside top edge.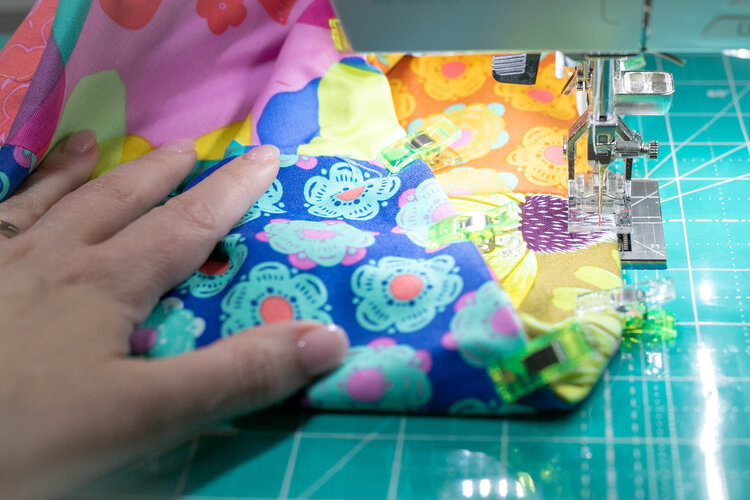 OR if you prefer not to use a free arm, you may sew around the inside top edge of the basket instead.
All done!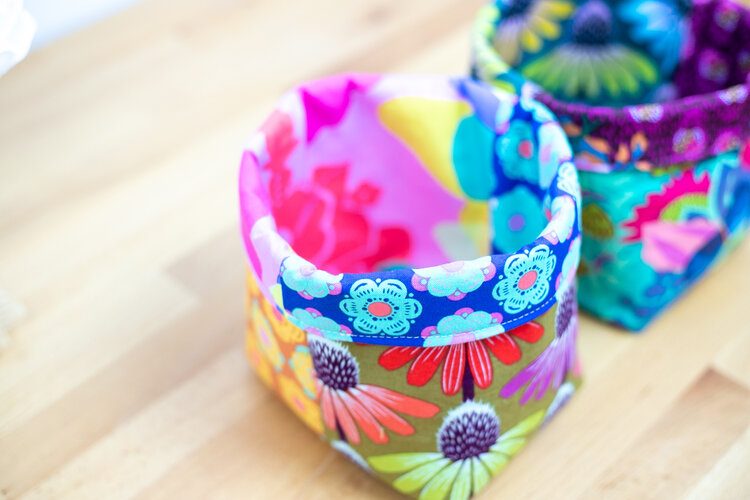 SEE TOO: Going Dutch Quilt