Baby Delight Crochet Dress
Come learn to make this beautiful baby dress Delight Crochet. It is a wonderful dress, delicate and full of charm that will make your little princess very elegant. This pattern has a beautiful model that is worth investing in if you like to make different pieces for your little one. With little material it is easy to make this beautiful piece and can be made of numerous colors, always leaving it well dressed and elegant. Clothes made in crochet always give a special and charming touch, as they are highly valued for being different and unique, and the best of all is that crochet allows us to give the dress our personal touch, being able to decorate with flowers made in crochet or use other types of appliques.
Use and abuse your creativity and decorate as you like this beautiful model the way you want, decorate your dress with various pieces of glitter, pearls or whatever you want!
It is always good to use your creativity for new pieces to be created and remembering that, although it is so perfect in its simplicity and delicacy, a personal touch to craft work, it values ​​it even more and makes it even more charming. Always be ready to expand and improve your knowledge, crochet is an art that is not, it is always changing and that is why it is important to keep updated!
This simple dress is knitted in one piece, from top to bottom, where you will first make the circular yoke in rows back and forth and the breech closes with buttons on the back, the skirt section is then knitted directly on the breech, in circles. It is an ideal pattern for babies, the size for newborns up to approximately 3 months, you can use a heavier yarn for larger ones and lighter for premature babies. It is a great standard, as it can be used alone in hot climates or over the body and pantyhose on the coldest days.
You will need about 200 meters / 219 sports yards or DK weight cotton yarn (or other baby-friendly fiber of your choice) in the main color and 50 meters / 55 yards in a contrast color. You also cut three small buttons, remembering that the colors are up to you!
The pdf pattern uses American crochet terminology, has been tested and includes illustrations/hotographs to facilitate understanding. Do it without haste and dedicate yourself, so that in the end you get the result you want… you fell in love with this pattern, it's just incredible!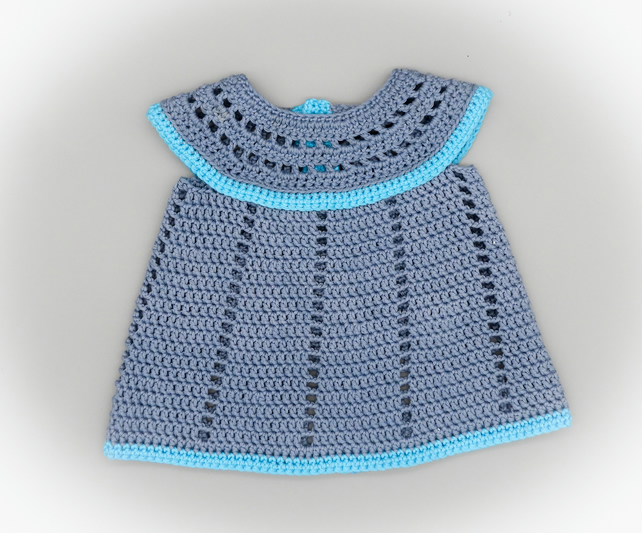 See To: Scrap Baskets Quilt Block Pattern